Posts Tagged 'funny video'
Monday, September 28th, 2009
Much like poop related apps, Wolf T-Shirts have really taken off. A few months back you may have seen the popular Amazon.com article where one users comments about the shirt catapulted it to fame via College Humor.
Here are some other howling wolf inspired t-shirts that we feel deserve a good look.
Purple Wolf Pups: Great color use here. The purple really highlights the wolf pups sensitive side. 

Angry Wolf Shirt: This wolf is pissed. Like, really mad. Do not mess with the Walmart shopper wearing this shirt. 

American Wolves Standing in Grass: The grass and the waiving flag give this shirt a real adventurous and wild west feel. Always a pleasure to open a birthday present and have these 3 fella's and America looking back at you. 

Teen Wolf: The hand drawn wolf in his teenage human years comes across looks terrible but so did everything in the 80′s. Either that or it looks really cool and I've just ordered one online. 

Keyboard Moon with Soft Paws in the Moonlight: Majestic little kittens belting out timeless synth tunes. This is the music that makes the wolves in other shirts howl. Placing the one retarded blue shirt kitten in the front sends a message. A message of love, lust, and passion. 

And last but not least, Massive Buffalo Head T-Shirt: "Hi, nice to meet you. My shirt? Oh, this old thing? Well, my dad loves buffalo and gave it to me when I turned 12. My dad was also 800 lbs, had a soft, brown coat, horns, and jumped off a cliff with a bunch of his buddies."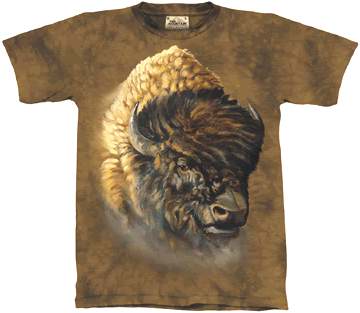 (more…)